Silica sand is also called silicon dioxide or quartz sand, and is important industrial mineral raw materials. It is Widely used in glass, foundry, ceramics and refractories, smelting ferrosilicon, metallurgical flux, metallurgy, construction, chemicals, plastics, rubber, abrasives and other industrial. Common Specifications are as follows: 0.5-1.0 mm, 0.6-1.2mm, 1-2mm, 2-4mm, 4-8mm, 8-16mm, 16-32mm.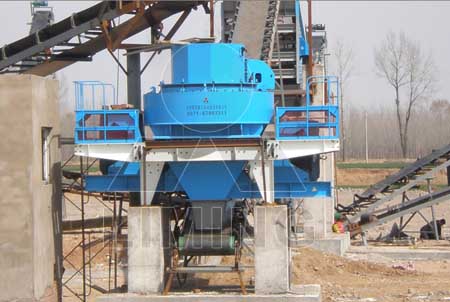 The VSI crusher (Veritcal Shaft Impact crusher) is a product based on many professionals' wisdom and right decision in mining industry. The VSI crusher is internationally advanced equipment with low energy consumption. It plays a unique role in crushing equipment. VSI crusher is widely used in various materials crushing, cement, fireproof materials, bauxite, diamond, glass, construction sand, stone material and other clinker and slag in metallurgical industry. It bears the merits of simple structure, self-impact crush, low operation cost, stable operation, little noise, high efficiency, energy saving, high reduction ratio and little erasion in spare parts. In addition, the quick-wear parts of this machine are made of choiced wear-resistance materials, which ensured its long using time.
Liming is a large and professional sand making machines manufacture, and supply complete sand production plant equipments.  Sand making Plant consists of vibrating feeder, jaw crusher, vertical shaft impact crusher (sand making machine), vibrating screen, sand washing machine, belt conveyor and centrally electric controlling system, etc. The designed capacity is from 50t/h to 500t/h.