Calcium carbonate is a chemical compound with the chemical formula CaCO3. According to the calcium carbonate production method is different, can be divided into carbonate heavy calcium carbonate, light calcium carbonate, etc.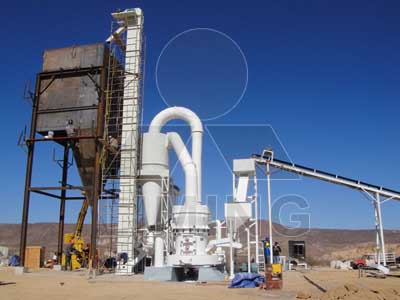 We can manufacture and install complete grinding line for obtaining micro Calcite (CaCO3) powder from 600 micron till 1micron according to the request of the customer. The calcium carbonate grinding system usually contains one of the ball mill, vertical mill, Raymond mill, trapezium mill, coarse powder mill, ultrafine mill etc. for different usage, the system also equip with deceleration machine, blower, hammer crusher, dustpan elevator, impulse dust cleaner, piping device, cyclone collector device, classifier, high-pressure motor and muffler and so on.
When the large calcium carbonate is fed into ball mill, it will be ground and the grain size can is between 0.074mm and 0.4mm, in normal, this final calcium carbonate can not meet the required size of industries. Then the grain size will be collected can transferred to next grinding machine such like MTW trapezium mill. Then the grain size will meet most of the application, but for some extreme application, the grain size of 0.04mm is still larger, then our ultrafine mill will take effect. The ultrafine mill can grind the grain size into particles between 325 meshes to 2500 mesh.
Liming is famous and professional grinding mill manufacture, and supply kinds of milling machines. Our products have exported to many countries, such as Russia, Kazakhstan, Azerbaijan, Turkey, Kuwait, South Africa, Egypt, Vietnam, Malaysia, India, Indonesia, Australia, Korea etc. If you want to know more information, please contact us, and we will give you the grinding mill price and other details.