This stone crushing plant is designed to crush medium hard rock with a production capacity of 80-120 TPH, such limestone, granite, basalt, talc, etc.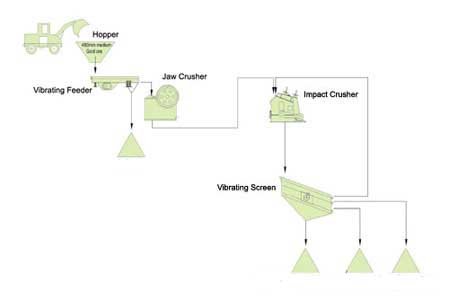 Flow chart of stone crushing plant
In our design, two stage crushing plant is the best choice, since it saves greatly the investment cost and the floor area. The crushing plant is equipped with one jaw crusher for primary crushing and one impact crusher for secondary crushing. We provide also a vibrating feeder for materials feeding and a vibrating screen of which the decks have been arranged by our engineer for products separation. Complete conveyor system channel and angle type construction is also provided for materials transport.
The following is the configuration of  80-120tph stone crushing plant