Cone crushers are normally used as a secondary crusher but can be used as a primary crusher if used in processing a sand and gravel deposit. Cone crusher can be divided into three types,  standard type (PYB) , medium type (PYZ) and  short head type  (PYD).  The main difference is the crushing chamber profile different shapes.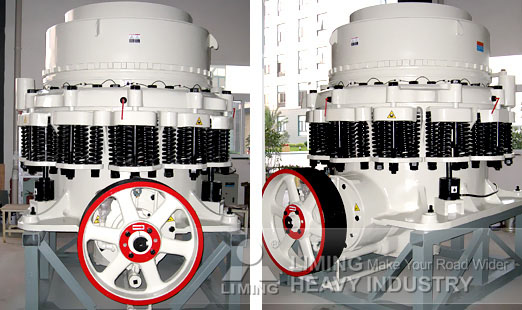 Comparison advantages of cone crusher
1. The standard type cone crusher is applied to medium crushing, the medium type cone crusher is applied to medium or fine crushing and the short head type  cone crusher is applied to fine crushing.
2. The average standard head cone crusher has an average reduction ratio of 6-10:1. That means an average rock will be fractured into 6-10 smaller rocks after passing through a cone crusher. A shorthead, also known as a fine cone crusher, typically has a 4-6:1 ratio. The maximum size of your target final product will be a good guide to whether you need a standard or fine cone crusher, either as a secondary crusher or a tertiary crusher.