Artificial sand is widely used in road construction, concrete industry, etc. As the field of industry application gradually expanded, the gradual application of natural sand work more and failed to keep pace with the various sectors of modern world development needs.  In the process of sand production, sand making and stone crushing equipment is necessary. The raw materials mainly are granite, limestone, basalt, pebbles etc, through a series of crushing and screening equipment in order to reach required level.
flow chart of alternative sand production line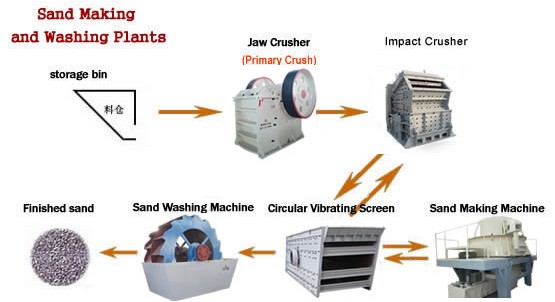 The raw material is transferred to jaw crusher for primary crushing by vibrating feeder, then the crushed materials are transferred to sand making machine through belt conveyor for secondary crushing. The crushed materials will be transferred to the vibrating screen. The materials with suitable size will be transferred to sand washing machine, after being washed, then clean final products will be discharged. The others with unsuitable size will be screened from vibrating screen, and then will be transferred to the sand making machine, these form a closed circuit manifold cycles.
best alternative sand making machine manufacturers
We are professional and large sand making machines manufactures, and supply the latest VSI5X sand making machines. It integrates many patents and three crushing methods, is a new and high efficiency crusher. It is a key equipment to process alternative sand, and offer better performance and reliability. It will bring you more business chances and more benefits.