Processing of materials: Basalt
yield: 400 t / h
Device Configuration: HPT500
Basalt Because of compression and strong, crushing a low value, corrosion resistance, good adhesion to asphalt and other advantages, is internationally recognized as the construction of roads, railways, airport runways in the best stone material. Moreover, high-rise buildings or basalt aggregate lightweight concrete, since it has many pores and rigid properties, which blended in concrete, concrete can be made lighter, and yet sturdy, but also has insulation, insulation, and other advantages, favored by the major building materials market.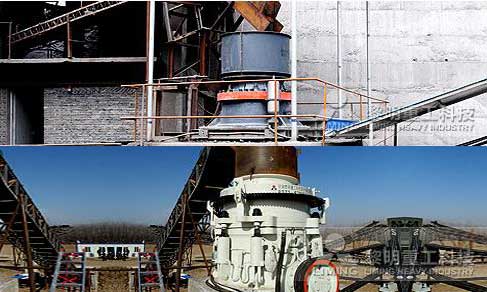 The first stage: crushing machines
Basalt bulk materials via feeding silo consists of vibrating feeder evenly transported to jaw crusher for primary crushing, coarse crushing of materials after after vibrating sieve, transported by belt conveyor to the crusher or cone crusher in crushing.
The second stage used crushing plants
Conveyed to the impact crusher / cone crusher in basalt After the crushing, the use of circular vibrating screen for screening large particulate material returned to the impact crusher / cone crusher broken again.
Phase III: Sand making processing plants
Basalt crushed into the crusher for further crushing plastic, for clean basalt, sand washing machine cleaning can be fed.
Produced basalt gravel exported to many countries, Togo, the United States, Brazil, Indonesia, Russia and so on, if you are interested in our Basalt crushing production line an d sand making equipment, if you do foreign trade business, can be directly our production base study. We will provide the best prices for your production line solutions.