Bentonite have a good physical and chemical properties, and are known as "universal" clay. Bentonitecan be used as binders, suspending agent, thixotropic agent, stabilizer, illing materials, feed, catalyst, etc., and widely used in oil exploration, iron casting, metallurgical, chemical paints, fertilizer, rubber, plastic, paper, and other fields.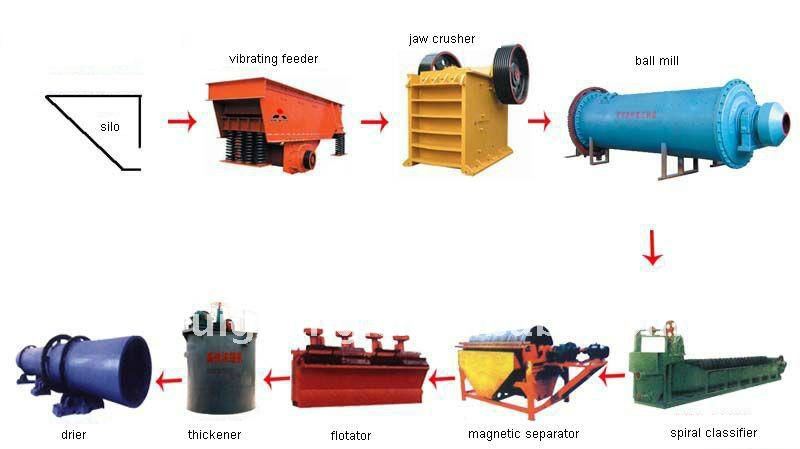 Bentonite grinding mill plant technological process:
If the capacity is very small and the final powder size is not very small, the new style hammer mill are able to used in the processing plants. The hammer bar inner will ground it until it meet the wire mesh size at the bottom of the hammer mill.
If the ball mill are used as the the bentonite grinding mill, the material are thrown up with the steel ball in the ball mill and fall to the bottom. They will be ground to small powders with the friction force between the bentonite and the steel ball. When the powder size meet the wire mesh size installed in the inner, they will pass through the mesh and be discharged from the bottom.
If the MTW series trapezium mill is adopted in the bentonnite grinding process, they will be distributed to the periphery, between the ring and the rollers. They will ground the particles to small powders, and them the blower will blow the qualified bentonite powders to the top and powder-collector will collecte the them. The dusts and fines will be also let off after purification.
We are famous and professional bentonite crushing equipments and bentonite grinding equipments manufacture. We can design bentonite production line according to different customers' needs. It is a  reliable quality, reasonable design, low cost industrial mill production line.