At present, according to the main power function to the material, coal crusher can be divided into extruding type, impacting type and shearing type.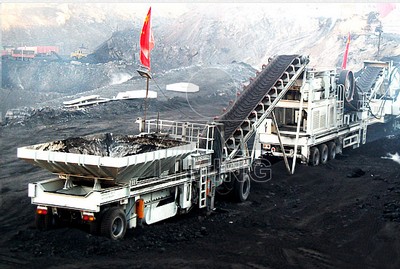 Impacting crusher includes impact crusher, hammer crusher. This kind of crusher strike the material with high speed hammer. And every time crushing, material will fly onto impacting board.Impacting and counter-impacting function with material's mutual impacting function realize the destination of crushing material. But this method has a low controllability with the cause of large amount of coal fly ash, even worse for those with lower hardness but higher brittleness coal. There is a limitation for material entering into the cavity. It is suitable for power plant and coking plant.
Extruding crusher include jaw crusher, rotary crusher, cone crusher, roller crusher with shiny side or groove tooth side. All of this crusher has the same working principle: the material is extruded between the fixed tooth board and movable tooth board of crusher, then is split off and curved into end product. In this process, extruding crusher make a mixed crushing, which can easily make an excessive crushing with large flaky product, not mentioning the granularity and low consumption. This crusher is often used into crushing hard material in metal ore mine and aggregate production line. So far, there are only a few coal selecting plant using this machine.
When crushing the coal, coke and limestone with medium-hardness material, the jaw crusher capacity is 0.46~1.5kW•h/t, impact crusher is 0.94~1.27kW•h/t, loop-hammer crusher is 0.86~1.24kW•h/t and the traditional tooth roller mill is 0.35~0.56 kW•h/t.
If you want to konw more about our coal crushing equipment, you can contact us by online customer service, we will give you reply soon!