Construction and demolition (C&D) materials account for almost 22 percent of the waste stream. Common Construction and demolition materials include lumber, metals, drywall, masonry (brick, concrete, etc.), carpet, plastic, pipe, paper, cardboard, rocks, dirt, or green waste related to land development.
To meet the needs of urban modernization and turn the waste into useful, Liming successfully developed a set of construction waste disposal equipments after several years' research and development. The construction waste disposal equipment crushes and screens the construction waste with jaw crusher, impact crusher, shaft impact crusher, hydraulic cone crusher, multiple vibrating screen, feeder, etc.
On-site recycling: the use of mobile crusher plant device to process construction waste disposing on-site.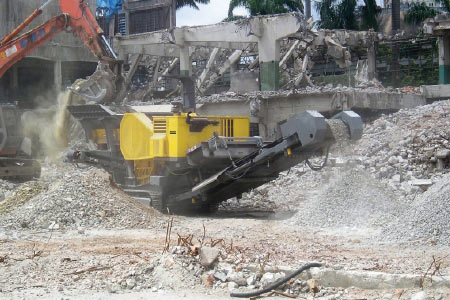 Moving any mobile device near the processing site, can reduce the transportation cost and avoid secondary pollution.
 The combination of several forms of mobile crushers can produce a variety of recycled aggregate.
 When there is no power supply, the diesel-powered is optional.
Factory recycling: the use of fixed crushing plant in the factory processing of construction waste
It can build large-scale construction waste crushing production line
It can produce in a closed workshop, and thoroughly solve all kinds of pollution.
It can produce a variety of recycled aggregate, and zero emissions.