Roller mill is most effective processing materials that are 5 or less on the  Mohs scale of hardness. There are a  few limitations, but the most practical materials are soft to medium hard  materials. Ideal applications include  various clays such  as fire clay, bentonite and kaolin as well as other minerals like barytes, gypsum, limestone, hydrated lime, phosphate rock,  talc and coal.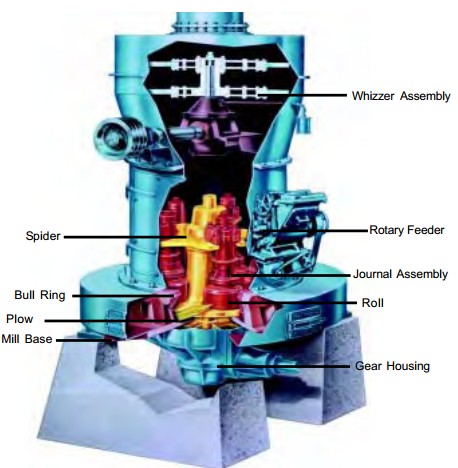 Journal assembly – forged steel shaft supports a steel journal housing on carrying rings or roller bearings.
Roll – cast and machined wear resistant steel roll is fastened to the tapered lower housing of the journal.
Drive gears – cut steel bevel and pinion operate in a integral or independent housing.
Base – heavy cast iron mill base is machined to provide an airtight fit for the return air housing, gear housing and mill bottom.
Bull ring – high carbon forged steel bull ring is keyed to prevent rotation and is held in place by clamps to facilitate replacement.
Vertical shaft – cold rolled finished steel vertical shaft is engineered to support all moving parts.
Mill bottom – cast iron mill bottom with with replacable liners fits into a machined recess in the base.
Spider – ductile iron or steel plate is keyed to the main vertical shaft.
Plow support – ductile iron plow support is bolted to the spider assembly.
Integral gear housing – heavy cast iron gear housing contains the lower thrust bearing for the vertical shaft as well as the bearing for the horizontal shaft.
Independent reducers – steel housing contains high efficiency gearing designed for maximum flexibility and extended service life.