Hammer Crusher is applicable to crush various kinds of fragile minerals such as coal, gypsum, alum and tiles as well as limestone, whose compressive strength is no more than 100MPa and moisture content no higher than 5 %.
Scientific and advanced hammer crusher design is adopted by Liming. Hammer crusher for fine and medium crushing are designed with reverse operation of the rotor and hammers. The design of the inlet chamber, rotor with staggered hammers and smooth grate surface have a favorable influence on the crusher capacity.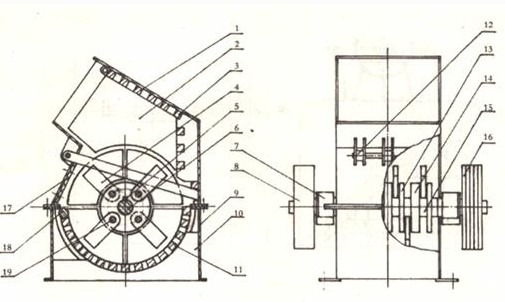 The design of the crusher housing (its tipping part) allows simple and quick access to important parts of the crusher for maintenance. Hammer plates can be rearranged either in a closed path or in an open path. The machine can be supplied with a common base frame for the crusher and drive which shortens the installation time of the crusher. The frame can be supplied with a flexible seating to reduce the dynamic forces on the foundations.
In all, our hammer crusher has the features of high reduction ration, high efficiency,g ood performance, high reliability, easy adjustment, high reduction ration etc. For more hammer crusher design informantion, please contact us!