Hammer mill is one of the most excellent pulverizer for easily crushable materials such as limestone, coal, chemical fertilizer and so on. Hammer mill is also named hammer pulverizer, and crushes materials by the collision between the high-speed hammer and materials.
Our hammer mill has unique structure design. The design and placement of hammers is determined by operating parameters such as rotor speed, motor horsepower, and open area in the screen. Optimal hammer design and placement will provide maximum contact with the feed ingredient. Hammer mills in which the rotor speed is approximately 1,800 rpm, should be using hammers which are around 25cm (~ 10 inches) long, 6.35cm (~2.5 inches) wide, and 6.4mm (0.25 inches) thick. For a rotor speed of about 3,600 rpm, hammers should be 15 to 20 cm (~ 6-8 inches long, 5 cm (~ 2 inches) wide, and 6.4 mm (0.25 inches) thick.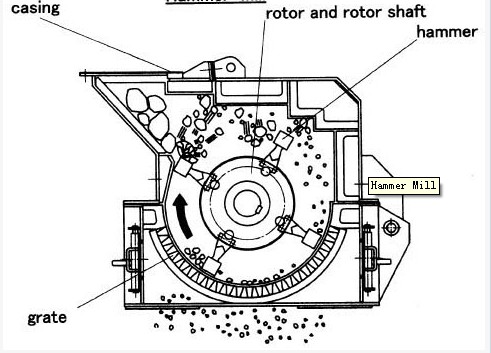 The model of Hammer Mill:
The number of hammers used for a hammer mill of 1,800 rpm, should be 1 for every 2.5 to 3.5 horsepower, and for 3,600 rpm, one for every 1 to 2 horsepower. Hammers should be balanced and arranged on the rods so that they do not trail one another. The distance between hammer and screen should be 12 to 14 mm (~ 1/2 inch) for size reduction of cereal grains.
Hammer mill is of simple structure, large reduction ratio, and high-efficiency.  It is applicable for both dry and wet crushing. Hammer mill is widely used for medium or fine crushing for medium hard and brittle materials by departments of mine, cement, coal, building material, metallurgy, chemical industry, road construction, gas chemical industry and thermal power generation, etc. Coal gangue, coke, slag, limestone, phosphate rock, salt, whiting, gypsum stains, alum, brick and tile, etc.