How to make your mobile jaw crusher life longer? In order to make sure mobile jaw crusher can work normally, in addition to proper operation, you must make planned maintenance, including routine maintenance checks, minor repair, medium repair and overhaul.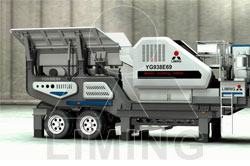 (1) Minor repair: The main contents include that inspect and repair adjustment device and high-speed discharge opening clearance, u-turn or change the worn lining board. Examine and repair transmission parts, lubrication systems, change oil and others. The cycle of minor repair is 1-3 months or so.
(2) Medium repair: In addition to all the minor repair work, it also includes replacing the thrust plate and lining board, checking and repairing the complex bearing. The cycle of medium repair is generally 1-2 years.
(3) Overhaul: In addition to all the medium repair work, it also includes replacing turning partiality axis and dynamic jaw heart axis, casting the babbitt of the upper rod head, replacing or repairing the worn parts. The cycle of overhaul is generally 5 years or so.
The mobile jaw crusher of Liming Heavy Industry is adopted the world's most advanced crushing and manufacturing technology, it is of high crushing radio, large capacity, well-distributed final product size, simple structure, reliable performance, easy to maintain, lower operation cost, etc. It is widely used in mining, metallurgy, construction, highway, railroad, water conservancy and chemical industry, etc.