Mobile Cone Crusher is used in river pebbles crushing
River pebbles are a natural stone, the main ingredient is silica, but also contains iron oxide, manganese, copper, aluminum and other elements and compounds. River pebble is hard, with compression, wear resistant and other natural features, is an ideal green building material, and is widely used in building and road construction and other industries. Before river pebbles apply to various industries, it must be broken, to achieve the right size to be used. In this river pebbles crushing process, Liming Mobile Cone Crusher has its unique advantages, and it is high effective and excellent performance. So Mobile Cone Crusher is the most ideal equipment.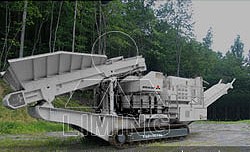 Mobile Cone Crusher is applied for coal industry
Mobile Cone Crusher is completely different from the traditional toothed roll crusher. It is mainly applied to crush fragile lump material in primary and secondary stages in the industry of coal mining, electricity, mine, metallurgy and chemicals. It can crush the raw coal directly without pre-screening and pre-selecting to simplify the process flows of crushing coal, lower the factory buildings, and reduce the construction and production cost of coal preparing plant and power plant. We provide you the best quality Mobile Cone Crusher which is always used in coal industry.