Industrial crusher is widely applied in several industries for example mining, metallurgy, construction, Highway, Railway, water conservancy and chemicals production. The current traditionally used dustrial crushing machinery are jaw crusher, impact crusher, vertical shaft impact crusher, hammer crusher, roller crusher and mobile crusher, etc.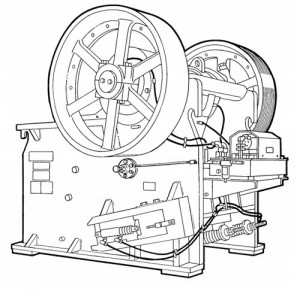 The following is industrial crusher user operation manual :
1. Carefully check bearing lubrication is good, the thrust plate connections have enough grease.
2.  Carefully check all fasteners are tightened.
3.  Double-check the belt is good. If there is breakage, should be replaced, when the belt or pulley on the oil, the oil rag and wipe applications.
4.  Check the protection device is good, that there is insecurity, should be immediately removed.
5. Check whether the ore crushing cavity or debris, if ore or debris, you must clean up the start to ensure Crusher cavity.
6. Check whether the return from the top bolt, gasket set is pressed, T-bolts are tightened.
We are professional and larger industrial crushers manufactures, and supply all kinds of fixed  industrial crushers  and mobile  industrial crushers. Our products have achieved national level, and have exported to many countries, such as Gabon, Angola, Mozambique, Botswana, Namibia, South Africa, Argentina, Bahamas, Bolivia, Brazil, Canada, Columbia, Chile, Cuba, Venezuela, Ecuador, Guatemala, Guyana, Honduras, Haiti, Mexico, Peru, Uruguay, Paraguay, Surinam, Australia, Russia and so on.