Mobile sand making machines Application in Bamako, Mali
Processing of materials: river sand material
Production capacity: 150t / h
Feed size: 600mm
The particle size: 0-5mm, 5-15mm, 15-25mm
Device Configuration: K series mobile crushing station KE750-1 and K series mobile crushing and screening station KH300-2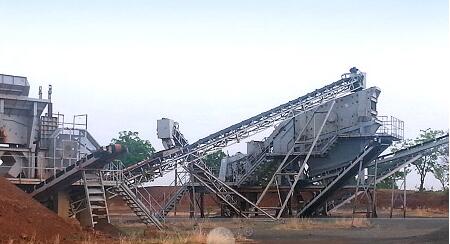 Mobile crusher is widely used in the construction industry of sand project, which finished on yield and size requirements are very high, our engineers according to customer demand for customers to configure a KE750-1, KH300-2 two mobile stations.
Mobile sand crushing machines works:
When chunks of sand stone into the hopper, through TSW1139 feeder into the PE750 × 1060 jaw crusher for primary crushing, and then by the belt conveyor will be broken after the beginning of the stone into the HPT300 (C) cone crusher for secondary crushing, after the secondary crusher by the belt conveyor to transport the stone 3YZS2160 vibrating screen for screening, after the screening, particle size of 0-5mm, 5-15mm, 15-25mm stone by belt conveyor output as the finished material, greater than 25mm stone directly into the cone crusher crushing again.
Of course, our engineers provide free installation and after-sales guidance!