Quality construction gypsum powder production line
Gypsum powder production line is a natural mineral gypsum (gypsum) or industrial by-product gypsum (gypsum, phosphogypsum, etc.) After a certain heating temperature calcining and grinding to make gypsum dehydration decomposition, resulting in β hemihydrate gypsum ( CaSO4 • 1 / 2H2O) as the main component of the product, that is, building gypsum (through the plaster).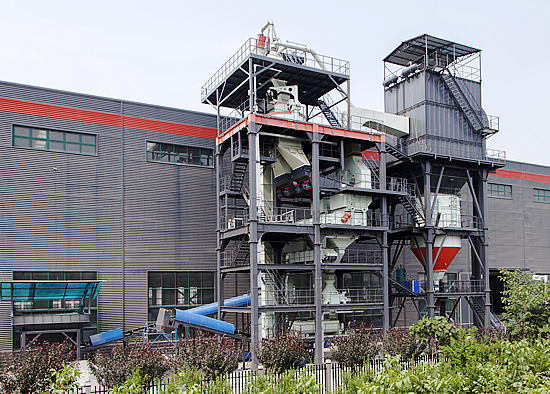 Liming Heavy Industry Science and Technology through painstaking research, the development of milling equipment on the basis of experience of 30 years for gypsum many other features, developed a high-yield and efficient gypsum powder production techniques. The technology for the production of dry, since the vertical roller  mill managed to achieve, through the frequency efficiency classifiers can be directly ground gypsum to conform "Gypsum" GB / T9776-2008 standard, no longer need to go through an external screening or sorting. And because the internal air circulation, can quickly meet the finished gypsum powder blowing elected to completely avoid over-grinding phenomenon, greatly improving the yield and productivity; at the same time thanks to the advanced ESP system meet the national environmental protection requirements.
Crusher large gypsum ore broken into small particles less than 30mm, and transported to the vertical roller mill grinding, the separator after grinding to achieve the desired product fineness powder into raw gypsum boiling furnace to calcine the rest partial returns mill grinding until qualified again. Calcined gypsum powder into the clinker qualified memory or storage products into the workshop.