Raymond micro pulverising mill is the new type mining equipment for making micro powders, fine powders, which is widely applied in the industries of metallurgy, mining, chemistry, cement, construction, refractory materials, ceramics and so on.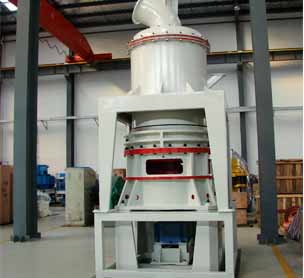 The purpose of the Raymond micro pulverising mill for super-fine grinding materials with hardness less than 6 in Moh's scale and humidity less than 6 percent such as kaolin, limestone, calcite, marble, talcum, barite, gypsum, dolomite, bentonite mud, mica, pyrophyllite, sepiolite, carbon black, diatomite, graphite, alunite, fluorite, potassium feldspar, phosphorite, pigment, up to 200 kinds. TSize of final product can be 0.613mm (30mesh) –0.033mm (425mesh). And a few of material powder can reach 0.013mm (1000 mesh).
Compared with the common Raymond grinding mill under the same power conditions, the capacity can be increased by 10%; moreover, under the performance of high-pressure springs, the rollers grinding pressure on raw materials can be raised by 800-1200kgf. Its dust-removing effect fully meets the national dust discharge standard.