Sand and gravel production line is specially designed for producing building sand and aggregated rocks. Compared with traditional sand making machine, it saves 50% energy. Sand and gravel production line can be used for crushing rocks, sandrock, and cobble. The sands are of equal size and has high compressive strength, quite suitable for use in construction. Sand and gravel production line has the features of reliable performance, rational design, easy operation, and high efficiency.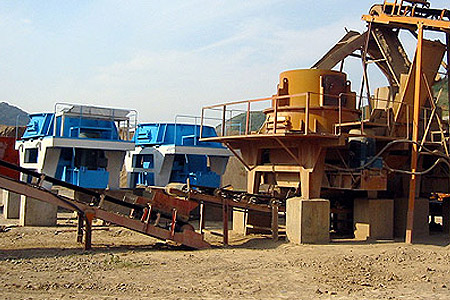 Main machines in sand & gravel crushing and recycling plant
The completed sand & gravel crushing  and recycling plant consists of vibrating feeder, jaw crusher, VSI sand making machine, vibrating screen, sand washing machine, belt conveyor and centrally electric controlling system, etc.In sand and gravel making plant, VSI crushers usually used in the final crushing and sand making stage.
Working flow in sand & gravel crushing and recycling plant
First, the vibrating feeder will send raw materials evenly to the jaw crusher for primary crushing. Then the coarse materials will be transferred to the fine crusher for further crushing. After that, the fine crushed materials will go to the vibrating screen for screening. Materials that meet the size requirement will be sent to the sand washer for cleaning and then become finished product. And materials failing to meet the size standard will be returned by the vibrating screen to the sand making machine(VSI crushers) for re-processing in closed circuit cycles. Particle size of materials can be mixed and graded according the our clients' requirement. In the case of dry production process, we can add a material-separator and dust remover to the production line.