VU limestone and aggregate system dry sand production line investment costs
Processing materials: limestone (15 mm or less) production: 60-65 t/H
Feed particle size: 0-15 mm discharging granularity: 3 mm
Equipment: VU – 70 system legal system of sand production line
Applications: high grade concrete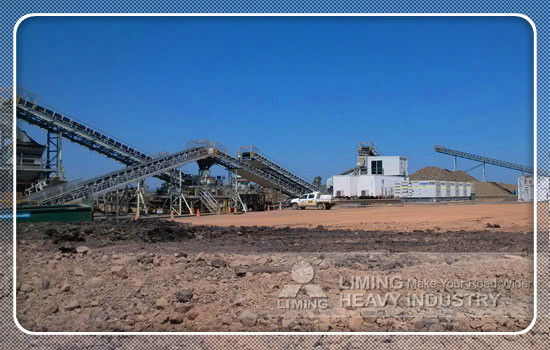 Limestone impact machine through ascension to VU, after high frequency grinding stone hit stone into the mold control screen, after sorting according to the results of the points screen oversize impact is expected to return to VU reprocessing, undersize material into the VU optimal machine for material to plastic, at the same time, the whole mold control sieve through the filter of air separation control powder content in the material, finally VU grain of optimal machine discharge material by humidifying mixer uniform mixing material.
The limestone dry sand production line product advantages: the legal system
1. The size distribution of the output is reasonable
2. The grain round
3. The controllable fg sand powder content
4. High yield
The limestone dry sand production line investment legal system:
Limestone dry sand production line adopts the crushing screening of legal system, grinding equipment, including jaw crusher, sand making machine, vertical milling machine equipment, a complete set of system to buy the same manufacturer, preferential larger efforts to suggest investors field trips, more comprehensive comparison on the most favourable limestone dry sand production line equipment production businesses of legal system, the highest profits at the lowest cost.