Aggregate production line is consisted of crushing, sand making and auxiliary equipments. The flow of crushing and sand making machines is:  jaw crusher, cone crusher / impact crusher, sand making machine. It is divided three crushing grade to process materials. According to the size of  actual materials, it can get rid of some crushing equipments.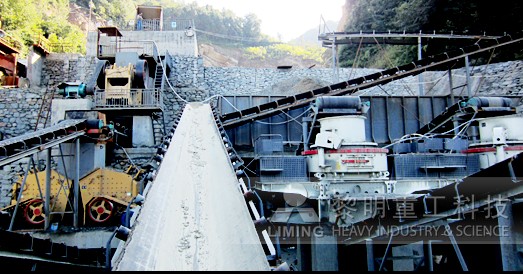 The following is a case about aggregates production in concrete mixing station.
The material is not original stone from mountain mining. It directly adopts jaw crusher and VSI5X sand making machine to process. It adopts nine sets of circular vibrating screen to coordinate with belt conveyor to achieve circulation of materials crushing and grading. It can be disposable to produce construction sand products with fully meeting international standard.
The complete set of aggregates production line  take full advantage of the features of the equipment at all levels, compact structure, smooth running, high automation, easy monitoring and maintenance. The running costs are greatly reduced, it has become a typical case in oncrete mixing stations and high-grade sand and gravel aggregate production.