Calcium carbonate is a chemical compound with the formula CaCO3. In ceramics/glazing applications, calcium carbonate is known as whiting, and is a common ingredient for many glazes in its white powdered form. Calcium carbonate powder is produced by crushing, grinding, precipitation, and classifying high purity, white, calcite limestone.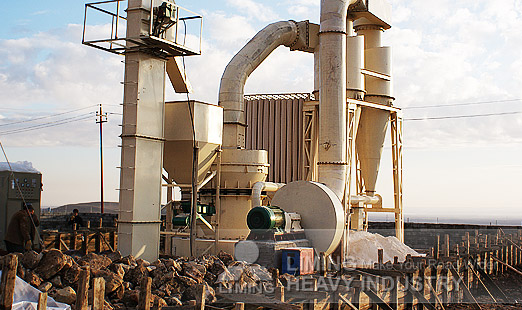 We are leading and large calcium carbonate grinding mill manufacturer in China. According to customers' different customers, we supply different types of grinding mill for processing calcium carbonate, such as ball mill, vertical mill, Raymond mill, trapezium mill, coarse powder mill, ultrafine mill and so on.
Ball mill is an efficient tool for grinding calcium carbonate into fine powder. It can be divided into tabular type and flowing type according to different expelling mine. The longer the ball mill runs, the finer the powder will be. There are two ways of grinding: the dry way and the wet way.
Vertical mill is a kind of large scale powder mill which is designed specially to solve the problems of low capacity and high consumption of industry mills. It can fully meet the requirement of clients of the high production of powder, and its main technical and economic indicator reaches the international level.
Micro powder mill is a new type of mill for making super fine powder.The fineness can reach to 0.006mm.Compared with jet mill, It is economic-cost, high-capacity, and the spare parts just need to exchange once a year.