Iron ore is typically classified as High grade (+65% Fe), Medium grade (+62 – 65% Fe) and Low grade (-62% Fe) by the content of Fe. Very low grade iron ore can not be used in metallurgical plants. You will need the iron ore beneficiation plant to upgrade iron ore by increasing the iron content and reducing the gangue content.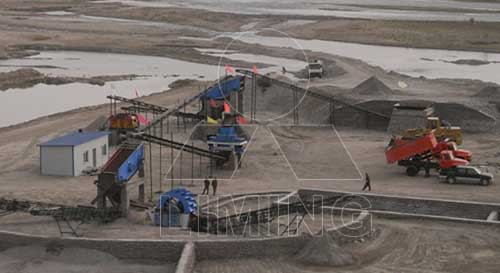 iron ore crushing plant
In iron ore crushing process include coarse crushing, medium crushing, fine crushing and pulverizing. In iron ore coarse crushing plant, jaw crusher is often to be selected, in medium crushing process, processer usually use impact crusher, and in the fine crushing, short-head type cone crusher is suitable.
iron ore screening plant
Screening is carried out at various stages in the crushing process. Screens are basically box frames into which sheets of screen meshes of the required apertures are inserted, clamped and tensioned. Screens are usually "multi-deck", i.e., two or more screen meshes are stacked vertically within the screen frame. The whole screen is coupled to its support frame by springs or resilient rubber mountings. Screens are made to vibrate by a rotating transverse shaft. The shaft is machined to be unbalanced, and when driven by an electric motor by v-belts, the required vibratory motion to agitate the aggregate is imparted.
iron ore washing plant
Our iron ore washing systems target these contaminants and ensure their effective removal from the iron ore fines. This has the effect of increasing the FE value of the iron ore, allowing for a more efficient steel production process.