Vertical roller mill is dependant on the domestic and foreign sophisticated technology, combined with production encounter in grinding machine. It can crush, dry, grind, and classify the materials. Vertical roller mill can be widely used in such industries as cement, power, metallurgy, chemical industry, non-metallic mineral. It is used to grind granular and powdered materials into powder with required fineness.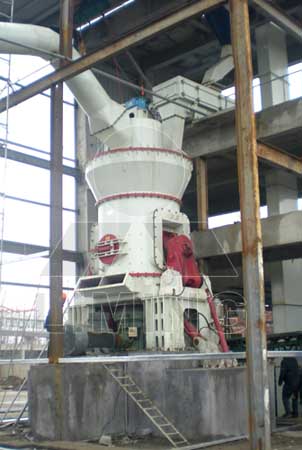 Vertical Roller Mill Structure & Wear Parts
Vertical Roller Mill consists of main unit, deceleration machine, classifier, blower, hammer crusher, dustpan elevator, electro-magnetic vibrating feeder, impulse dust cleaner, piping device, cyclone collector device, classifier, high-pressure motor and muffler.
Specifications of vertical roller mill(VRM)
Contents|Data\Model
LM130K
LM150K
LM170K
LM190K
LM220K
LM240K
Disc Dia. (mm)
1300
1500
1700
1900
2200
2400
Capacity (t/h)
10~30
13~40
18~57
23~72
36~114
41~128
Output fineness
micron
170~45
170~45
170~45
170~45
170~45
170~45
mesh
80~325
80~325
80~325
80~325
80~325
80~325
Product moisture
≤1%
≤1%
≤1%
≤1%
≤1%
≤1%
Max.input size (mm)
<38
<40
<42
<45
<50
<55
Best input moistrure
<4%
<4%
<4%
<4%
<4%
<4%
input moistrure(drying required)
<15%
<15%
<15%
<15%
<15%
<15%
Inlet air temperature (℃)
<350
<350
<350
<350
<350
<350
Outlet air temperature (℃)
70~95
70~95
70~95
70~95
70~95
70~95
Main mill power (KW)
185~220
250~280
355~400
450~500
710~800
800~900
Dimension
Lmm
3500
4200
4700
8500
10200
11700
Wmm
3400
3900
4500
5600
6700
7700
Gmm
5800
7100
8300
8800
10600
12200
Weight (t)
48
75
90
100
125
160