Stone grinding, also called as fine powder grinding, pulverizing or comminution sometimes, grinding will reduce materials to a fine or very fine size powder. It is different from crushing, which always seen as the primary process of stone grinding. Crushing produce rock, pebble or grain, give the grinding mills 'raw meterials'. Milling is used to produce a variety of materials which either have end uses themselves or are raw materials or additives used in the manufacture of other products.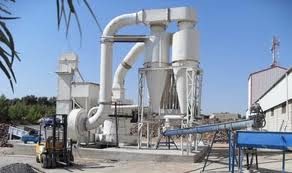 Stone Powder Grinding Complete Line
No matter what mining methods, after stone comes out of the ground, it typically goes on a conveyor belt to a preparation plant that is located at the mining site. The plant cleans and processes stone to remove other rocks and dirt, ash, sulfur, and unwanted materials, increasing the heating value of the mineral. The common mineral mining equipment using in this plant is washing machine.Then stone were crushed into small ones through primary crushers. After the materials are put into the grinding room of the main equipment, the grinding roll swings outward and presses closely upon the grinding ring due to the centrifugal force in rotation of the main shaft. The shovel carries materials to the space between the grinding roll and grinding ring, and materials are ground as the grinding roll rolls. After being ground, the powder is selected by Separator via the cycle wind of the blower and the rough powder will be back to the grinding room for regrinding. The proper powder is brought into the powder collector together with airflow. The powder comes out as end products while the airflow goes back to the powder collector in cycling to make the machine work normally. The increased airflow comes out after purification .
To face  international environment and market conditions, we developed a series of stone pulverizer machines, that is the LM vertical milling machine, MTW European Trapezium Mill, Raymond Mill, high pressure mill, high pressure micro-mill, medium speed trapezium mill, S ultra-fine powders grinding mill, high pressure roller mill, etc.