Talc is a kind of silicate minerals, it is extremely soft and have satiny feel. Talc generally is very large, the blade shape, fibrous or radial, color is white, gray, and will take other impurities because contain various colors. Talc USES many, such as as refractory materials, papermaking, rubber packing, insulating material, lubricants, pesticide absorber, leather coatings, makeup, materials and engraving materials, etc.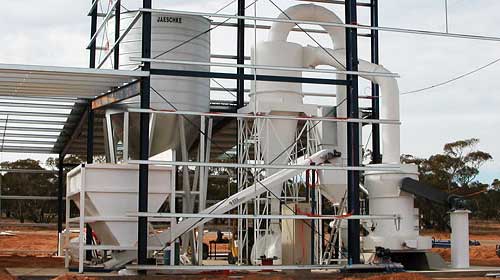 talcum powder manufacturing process
Firstly, blended ore of 100 mm is transported to the mill by truck, with jaw crusher to 25mm.Then materials are sent into storage bin, in order to carry out sampling tests. After testing ,material is transported to 8 conical storage bins steel bottom enclosed.In flour milling workshop ,Raymond mill is used to produce fine powder, which can reach about 800 mesh, for direct sales, also can be used for production of powder materials. Powder is feeded into the workshop by pump and micro powder production is carried out by ultra superfine mill, which can reach 1350 mesh.
talcum powder manufacturing machinery
Ultrafine grinding mill: The fine talc powder is usually 1250 mesh, 2500mesh, and 7000mesh. In order to get fine talc powder, we choose the ultragine grinding mill used as talc fine powder machine. The finished size can be upto 0.005 mm, and the capacity range from 320 kg/h to 6000kg/h.
Raymond mill: it is optimized by our experts, combines low consumption, low investment, and environment friendly, small occupation area, it is more efficiency than the traditional Raymond mill.