Horizontal Shaft Impactors(HSI Crusher) are primary and secondary impact crushers. They are available in 20 sizes with rotor dimensions from 12" to 72" and feed openings from 7-1/2" x 12-1/2" to 42" x 84". Through put capacity can vary from 15 TPH to 480 TPH depending on the crusher model and material characteristics. They also accept feed sizes up to 24" and generate a cubical product from 0 to 4".
Horizontal Shaft Impactor allow high reliability, high reduction ratio, cubical shape particles with high crush count, reduced maintenance and wear costs, adjustable feed plate assures more consistent operation and minimum down time. Horizontal shaft impactor consists of heavy duty impeller bars, curtain liners and adjustable liner plates with high rotational inertia. During the raw material hits on the breaker-plate, the crushing process takes place.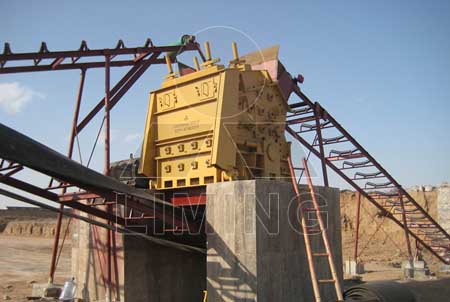 We have a long experience to develop and design crushers, especially Horizontal shaft impact crusher equipments. While offering technically sound high quality equipments, we always provide with the usability of equipment to achieve the highest profitability. Our horizontal shaft impact crusher machines are designed with high security level, can be easily used with any application.
Technical specification of horizontal shaft impactor
| | | | | | |
| --- | --- | --- | --- | --- | --- |
| Model | Size of rotor (mm) | Feed opening (mm) | Max. feed size (mm) | Capacity (t/h) | Power of Motor (kW) |
| PF1010 | Φ1040×1000 | 510×1040 | 200 | 50-90 | 75 |
| PF1210 | Φ1250×1050 | 465×1155 | 250 | 70-130 | 110 |
| PF1214 | Φ1250×1400 | 465×1485 | 300 | 90-180 | 132 |
| PF1315 | Φ1320×1500 | 700×1540 | 300 | 120-250 | 200 |