Broken material is a process that is widely used in metallurgy, mining, building, chemical industry, power, road-building and other industrial departments, every year a large number of raw materials and reuse of waste treatment need to be broken, Mobile Jaw Crusher is the most common broken equipment.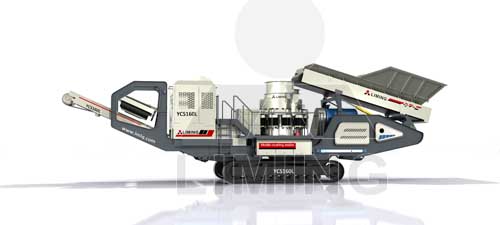 The crushing chamber of Mobile Jaw Crusher is deep and no dead zone, then increases feed capacity and output; the crushing ratio, even granularity; gasketed discharge opening adjustment device is reliable and convenient, large adjustable range, increased equipment flexibility;
Simple structure, reliable work, low operating costs. Energy-saving equipment:
single-machine can save energy 15% to 30%, the system can save energy more than double; discharge opening adjustment range is large, it can meet the requirements of different users; low noise, less dust.
About 15% of energy consumption in the world is consumed in the crushing operation, and is increasing every year. The principle of crushing and grinding show: strengthen broken and reducing granularity are important way of improving grinding efficiency and reducing the cost of beneficiation. After years of practice and concluded, the process of Jaw Crusher crushing "more crushing and little grinding", reduce the crushing product final size, increase the content of the fine particles in the broken product, thereby enhancing the grinding 's processing capacity, to reduce power consumption and metal consumption, reduce costs and increase economic efficiency.
This allows Jaw Crusher develops to fine crushing, high efficiency and energy saving. In addition, as technology development, the scale of mining have been expanding, Jaw Crusher is also developing towards large-scale direction.