Designed for continuous operation, three roller grinding mill performs efficient fine grinding and classification of soft to medium-hard materials. Due to integrated bearing system of roller table, three roller grinding mill does not need any reinforcement on gearbox itself and requires minimal maintenance.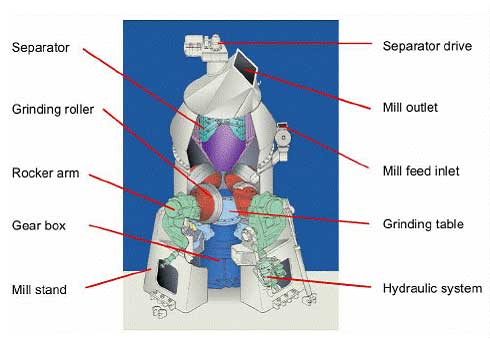 The grinding operation of three roller grinding mill is performed on the principal of Attrition and compression, which results due to the centrifugal force generated from the suspended rollers running inside a stationary Bull Ring.
The material to be grind enters the grinding chamber through an automatic feeder and falls on the mills floor. There it is scooped up by steel into the nip space between the rollers and Bull Ring where grinding takes place.
A constant quantity of air is circulated through the mills and system. The air from blower enters the mills through a series of tangential ports round the bases of grinding chamber and sweeps the fine and medium fine material to the classifier above the grinding chamber leaving no grinded material in the chamber and allowing the rollers to work & efficiently crushing coarse material.
The classifier separates grinded materials, and coarse particles return to grinding chamber for further size reduction. Fine materials are carried by air to the cyclone air separators where air and grinded material are separated and collected. The clean air is returned to the blower for close circuit operation.
Liming is professional roller grinding mill manufacturer, and supply various kinds of roller mill, which all adopt national advanced technology and have high efficiency with low cost. If you want to know more about products, please contact us!